Born 7th December 1959
Upasampadā ordination 1st July 1990 at Wat Pah Cittaviveka with Ajahn Sumedho as upajjhāya
Died 28th October 2022 (aged 62)
Videos of the funeral which took place in Thailand can be found here.
Ajahn Gandhasīlo was born as Andrew Brown and grew up in Clacton-on-Sea, Essex in the 1960's and 1970's. Being deaf, as a child he had an appreciation for silence. The first couple of years or so at school went well as he was left alone to enjoy the silence. Later he was given a simple hearing aid which made the other children's voices and the scraping and banging of their chairs loud for him. The sounds were so unpleasant that he'd discreetly turn off the hearing aid and go back to enjoying the silence.
He first became an anagārika in 1986, he subsequently left and then returned again in 1989. He was ordained as a bhikkhu in 1990 in a group of six candidates. He spent his early years at Harnham, Chithurst and Amaravati monasteries. He was skilled in woodworking crafts. Ajahn Gandhasilo had an enormous knowledge of and interest in plants and trees. He was never happier than when he was pushing a wheelbarrow, helping to shift compost or directing lay supporters as to where and how to plant tree saplings. He always looked at his happiest (and most relaxed), and in his element, when tramping through fields and woodland in his Wellington boots, with a few tools in his wheelbarrow. He supervised the planting of many trees both at Amaravati and Hartridge monasteries. In Chithurst especially he often roamed through the marshy woodland areas along the stream which leads to Hammer Pond. He had his own planting and regeneration projects down there, where few people ever go. When he moved to Thailand, he continued the same kind of work in the wetland areas of the monastery there.
His other main interests included going on annual tudong walks during which he demonstrated great determination, tenacity and resilience, often surviving on almost no food but heading for places where he knew there were springs of fresh water. He was very drawn to walking in the South-West of England (mainly Devon and Dorset), countryside which he loved.
He never travelled abroad as a monk and was not really interested to go until he received much friendly encouragement from a senior Thai Ajahn who was spending the vassa at Amaravati. He then approached his Thai friend and asked 'Can you show me Thailand?' 'Welcome to Thailand', was the reply he got. That was the first time he was really interested in going to Thailand. He later explained that he didn't really know how he could ask for an expensive ticket.
While he arrived in Thailand in the morning of the 5th January 2014, what amazed him the most was the size of the sun, it was so big, so close and so hot. This later led him to clear his doubts and understand why the monks in Thailand wake up at 3 a.m. It seemed like it was too early to wake up, which did not make any sense to him at all. Eventually he came to the conclusion: 'It is the most quiet and comfortable time of the day'.
He often mentioned how beneficial his exposure to Thai Sangha life had been for him. Having few managerial abilities himself, he was never given much responsibility in the western Sangha and felt somewhat excluded. In Thailand on the other hand, he appreciated the sense of mutual respect based on monastic seniority and the feeling of inclusiveness. He made connections with a number of senior Ajahns of our tradition there when visiting their monasteries.
He made efforts to study the Thai language, despite obvious difficulties due to his hearing disability. Although he couldn't pronounce the Thai tones very well, he was quite proficient at reading Thai Dhamma texts from which he learnt useful vocabulary. Occasionally he was asked to say a few words in Thai to the laypeople and he did his best to prepare a short Dhamma talk.
Thailand changed him in many ways. People who had known him for a long time noticed that he seemed to be much happier and often asked 'What did he go through in Thailand to bring about these changes?' Ajahn Gandhasilo himself felt these changes as well and he thought that as a result the Sangha might include him in a role with more responsibility. However these expectations were not fulfilled in the way he had imagined, which made him feel somewhat disappointed.
He was desperate to diagnose and find the causes of his lung illness in the last years of his life. He experimented with various medicines and herbal remedies, but eventually the illness took its toll on his health. It must have been difficult to communicate what exactly affected his health in a negative way in terms of the environment. He was quite vulnerable to sudden changes in the air quality and this was finally too much for his body to cope with.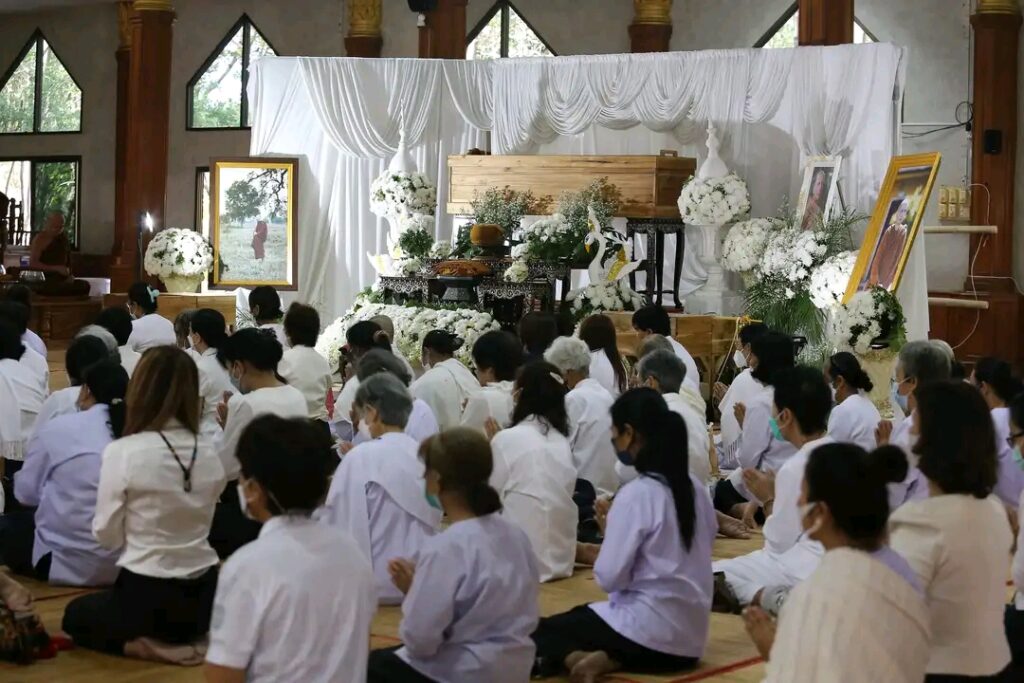 He had planned to return to the UK on the 10th of November 2022, where he was due to come and reside at Amaravati Buddhist Monastery. Tragically his life was cut short before that could happen; the 10th of November turned out to be his cremation date instead, leaving many people with a feeling of great loss. Hundreds of people, both monastics and laypeople, attended his cremation ceremony at Wat Pah Thai Charoen in Buriram, North-East Thailand, where he had lived. He had numerous followers and friends in the UK who sincerely mourn his passing. Ajahn Gandhasilo is the first of Ajahn Sumedho's saddhivihārika disciples (those directly ordained by him) to have died in the robe.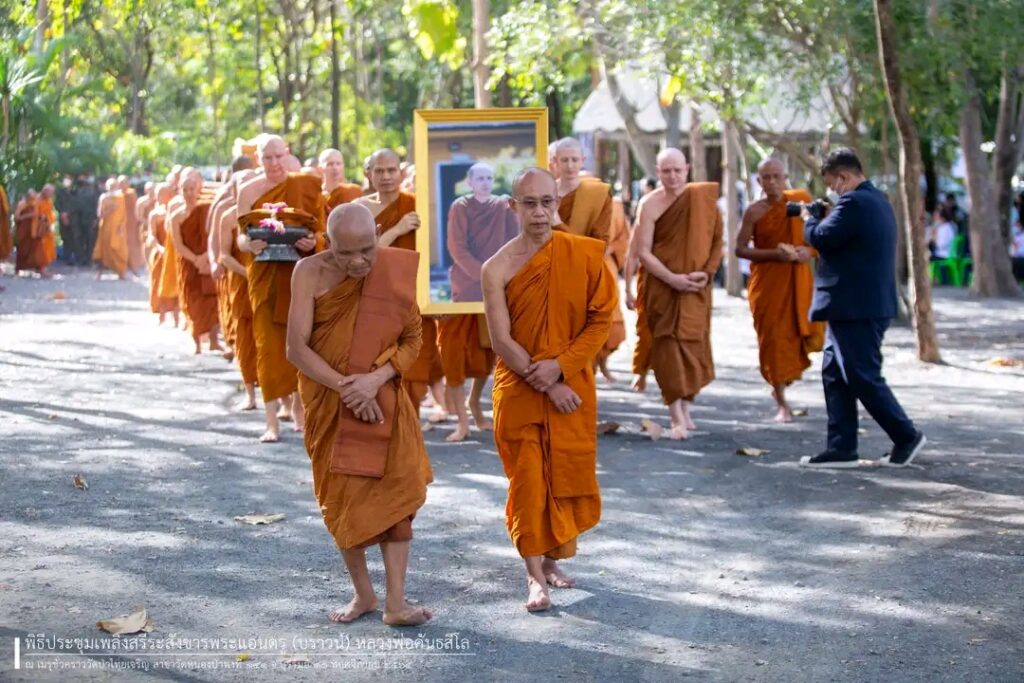 A message from Luang Por Sumedho
This is a message from Ajahn Sumedho regarding the passing of my saddhivihārika, Ajahn Gandhasīlo. He is the first monk who was ordained by me who has passed away, in all these years. He was very dedicated in practising meditation and very much involved in developing Amaravati.
He was very helpful to me and assisted me in many ways. When he went to Thailand he was quite keen because he seemed to be very happy there and he was very content. I have never heard him complain about anything when he was in Thailand. And he was planning to return to Amaravati in November, this every month and I was quite looking forward to seeing him there again.
It was very much a surprise to hear of his death but I was very well aware of his delicate health. In one way I feel sad that I have lost a Dhamma friend but also he seemed to have had a very peaceful life as he developed his life in the Sangha.
He was ordained in 1990 and had 33 vassas. So I send my condolences to his family and express my gratitude for the many good things he did while he lived as a Buddhist monk.