Buddhadasa Indapanno Archives (BIA) is a Dhamma centre in Bangkok, established by students of the late Ajahn Buddhadasa. They invite members of our community to teach there regularly, and they just put out this helpful collection of items.
Dhamma for Ordinary Sick People by Buddhadāsa Bhikkhu, a talk apparently recorded for a student who was ill
"This Dhamma talk is for stimulating the intelligence of people who are ill. Please read carefully and consider thoroughly. Illness ought to be seen as natural occurrences for all physical saṅkhāras (bodies), whether humans or other animals, because saṅkhāras undergo change. Whenever there is change, it can be up or down. Upward change feels comfortable and healthy. Downward change creates illness…"

From the Dharma for Sick People series, currently being translated by Santikaro Upasaka.
FACEBOOK: weekly posts on https://www.facebook.com/suanmokkh.bkk/
Solitude by Buddhadāsa Bhikkhu, a set of six lectures given to international students
"The meaning of solitude can be used both in ordinary worldly matters, as well as for the highest spiritual purpose. There is a verse that goes something like 'Solitude is the resting place for the suffering soul.' And the meaning of this can be applied both on the ordinary level of home and family and work, as well as on the highest spiritual level."

(As interpreted into English by Santikaro Bhikkhu)
AUDIO: https://soundcloud.com/buddhadasa/sets/retreat-talks-9002
Practicing Metta, a talk by Ajahn Pasanno, guiding elder of Abhayagiri Monastery
"They are certainly drawbacks to having a global pandemic, but is it all doom and gloom and complete misery? That's certainly part of it, but it's also an opportunity for stepping back and, as a society also, to be able to reflect more clearly…"

VIDEO: https://youtu.be/O1HrBUbY3qE
Heart-Felt Wish to All People in All Countries of the World & A Few Mindfulness Exercises for the Pandemic, two notes by Ajahn Jayasaro, former abbot of Wat Pah Nanachat
"The more closely we contemplate our bodies and minds and the world we live in, the more profoundly we become aware of fragility and instability. When a crisis like this pandemic lays bare the unreliable and uncertain nature of the world, we are unsurprised…"

FULL TEXT: https://www.facebook.com/suanmokkhbangkok/posts/2804298666286655
"Be mindful of anxiety as a phenomena affecting body and mind. Don't fight it or indulge it. See the anxious thoughts as simply thoughts, like clouds passing through the sky of the mind. See the physical sensations as merely sensation, part of nature. Breathe deeply…"

FULL TEXT: https://www.facebook.com/suanmokkhbangkok/posts/2817861838263671
How to Deal with Distressing Situations by Ajahn Jayasaro: one Q&A
'What advice do you have for not reacting in that split nanosecond that it takes (when there's something distressing or upsetting)?'

VIDEO: https://youtu.be/cQQTpgHv-Nw
Sane Living … Year Round (Covid-19.1), a blog post by Aj. Santikaro Upasaka, founder of Kevala Retreat (Liberation Park)
"Avoiding Covid-19 and flattening the curve are on our minds. As many of us will catch it, surviving it is also on the table. Those of us who will experience cold or perhaps flu-like symptoms have healthy choices to make…"

FULL TEXT: https://liberationpark.org/blog/sane-living-year-round-covid-19-1/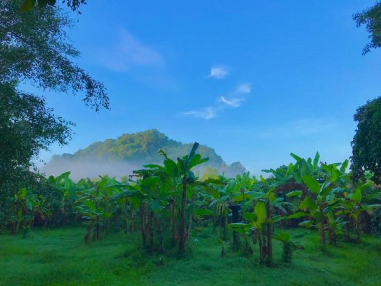 May all beings be free from suffering and at peace.