At dawn on Tuesday the 11th of October, we ended Amaravati's 38th vassa, the first one having been formally determined by Luang Por Sumedho and the sangha at the time, in 1984.
The day before was "Pavarana day", during which a formal ceremony for ordained residents takes place whereby monks and nuns invite their respective communities to offer them feedback about any issue that might have arisen during the Rains. The Buddha was likely well aware that living in community for extended periods of time without travelling often entails friction and misunderstandings, and this is an opportunity to clear the air and begin anew.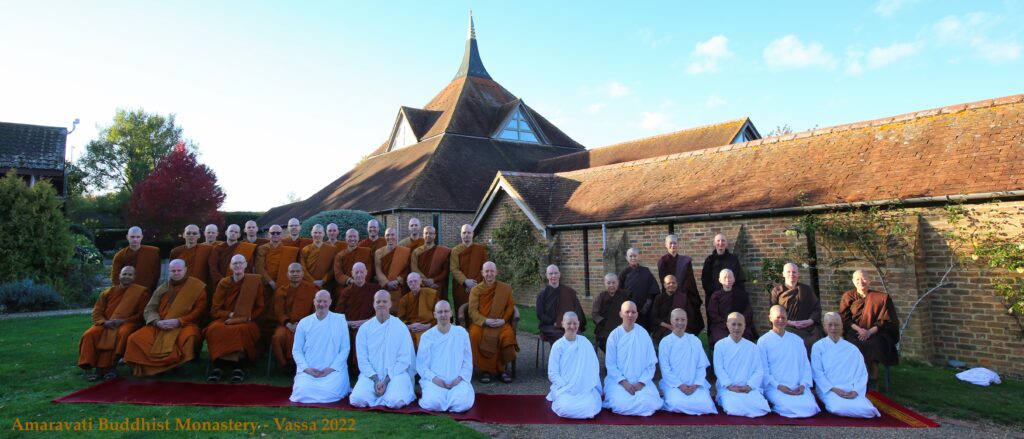 This year's Pavarana day was particularly auspicious as a long-term resident, Atsuko, requested and was granted the 8 precepts, and in so doing became Anagārikā Atsuko.
An. Atsuko was part of this year's winter retreat support team and has now deepened her connection to the community by committing to at least one year of training within the female community as a white-clothed anagārikā. We wish her well in her journey and hope Amaravati will be a supportive environment.
Sunday Talks
The ending of vassa also draws to a close the weekly Sunday talks: this year thirteen were given by seven different Ajahns. Audio recordings are available on our website, Spotify, Apple Podcasts and Google Podcasts. Video recordings of Ajahn Amaro's Sunday Talks are available on Amaravati's YouTube channel.
The weekly meditation workshops continue as usual, starting at 2pm in the Temple each Saturday, except 5th November. As always, you are also very welcome to join our regular evening pujas.
Kathina
As many of you are probably aware, Amaravati's Kathina will take place on the 6th of November. You are warmly invited to join our first post-lockdown Kathina with no particular restrictions in place. Please see amaravati.org/kathina2022 for more information.
Also, our Kathina List has been updated with items that the resident community thinks would be helpful. If you wish to offer any of these items, please do go through the booking process there, as this helps us to manage and to formally acknowledge your gifts later on.
Upcoming ordinations
On the 16th of November at 2pm, Samaneras Ñānatejo and Kataññuto, respectively training at Cittaviveka and Sumedharama monasteries, will be asking for upasampadā or Acceptance into the bhikkhu sangha. That same day, we will blend in Anagārika Aurélien's request to be granted pabbajā or "Going Forth" as a samanera. Anagārika Aurélien, who took 8 precepts under Ajahn Amaro, has spent this rains' retreat at Chithurst and will be returning to Amaravati shortly.
A few days later, on the 20th of November at 2pm, Anagārikās Ariyasara and Annamari, who have been training at Amaravati for several years, will be requesting siladhara-pabbajā, or Acceptance into the nuns' community. This ceremony is public and you are very much welcome to attend.
Demolition of the sala
Last week saw significant progress in the demolition of the previous sala; we are hoping to start uploading soon periodical photo and video updates of the evolution of the work.