At dawn on Monday 30 October, the monastic community completed the vassa (rains-retreat), Amaravati's 40th this year.
The day before was "Pavarana day", on which a formal ceremony for monastics takes place and monks and nuns invite their respective communities to offer them feedback about any issue that might have arisen during the Rains. The Buddha was likely well aware that living in community for extended periods of time without travelling offers opportunities to our fellow samanas to provide feedback and encouragements in the holy life.
The weeks ahead
The period immediately following vassa is usually marked by a lot of movement amongst monastics, as residents travel to attend our sister monasteries' Kathina festivals (Harnham's on the 5th, Hartridge's on the 12th, and Chithurst's on the 19th) and also take the opportunity to visit family before settling in for the winter retreat.
Ajahn Amaro set off for Northumberland on the 1st of November, as part of a large group of monastics from Chithurst and Amaravati. After attending the Elders' meetings in Harnam, and participating in their Kathina festival, Ajahn Amaro will continue his journey onward to the United States, to Abhayagiri Monastery, to return just in time for our Kathina.
Speaking of which: Amaravati's Kathina will take place on the 26th of November. More information can be found on this post and the Kathina list is live at kathina.amaravati.org.
Finally, on a more practical level, the community shifted to our "winter mode", with the time of the daily meal blessing changing from 11:30am to 10:45am (10:30am on Sundays.)
Recent events
On the 2nd of September, we celebrated Ajahn Amaro's 67th birthday, and many visitors, lay and monastics, visited Amaravati for this auspicious occasion.
In early October, Deepa took on the 8 Precepts and formally joined the monastic community as a white-robed postulant. Prior to going forth, Anagārikā Deepa had been closely involved with the tradition for a number of years, and is well known in several of our sister monasteries. We wish her all the best in her training with the nuns' community at Amaravati.
The new sala
We are glad to report that the sala reconstruction project is on schedule. As anyone remotely involved with building projects knows, it is quite a feat worthy of note. We have recently received some of the preassembled elements of the new building. Although a significant amount of work remains to be done, it is heartening to be able to see the outline of what the building will look like in its final form, which is due in the autumn 2024.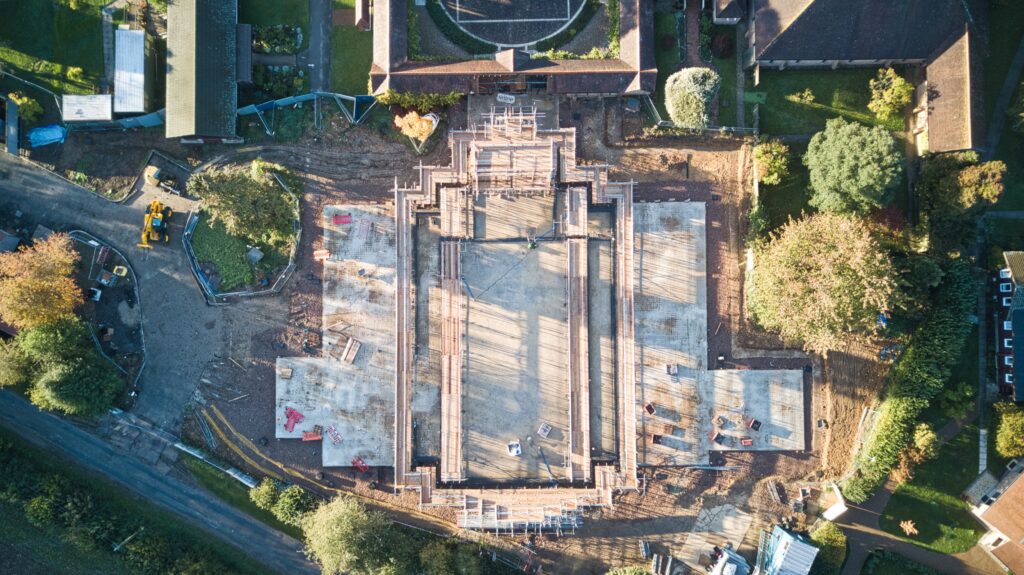 Sunday Talks
The ending of the vassa also brings to a close the Sunday Talks season. A total of 12 were offered this year by 6 different Ajahns. The recordings of most of them are available either on our YouTube channel, or in audio form on our website.
Luang Por Sumedho's talks
Luang Por Sumedho carries on with his weekly offering of Dhamma talks, at 3pm on each moon day. As always, please check our calendar at amaravati.org/calendar for last minute cancellations.
Finally, with respect to Dhamma teachings, Ajahn Amaro's latest booklet, Serenity Is the Final Word, published last year on the occasion of his 66th birthday, is now available in epub and mobi formats on our media website.
May all beings be at ease,
The resident community at Amaravati