The resident community at Amaravati officially ended its winter retreat 2023 on the morning of the 31st March, with a formal 'Asking for Forgiveness' ceremony attended by Luang Por Sumedho.
A special anumodana goes to the winter retreat support team without which such periods of quietude would not be possible. If you are interested in joining the support team of future winter retreats, please do not hesitate to contact the guestmonk or guestnun.
Gratitude also goes to the community of lay supporters who kept flocking to the monastery during the winter to offer food and other requisites, braving the sometimes inclement weather.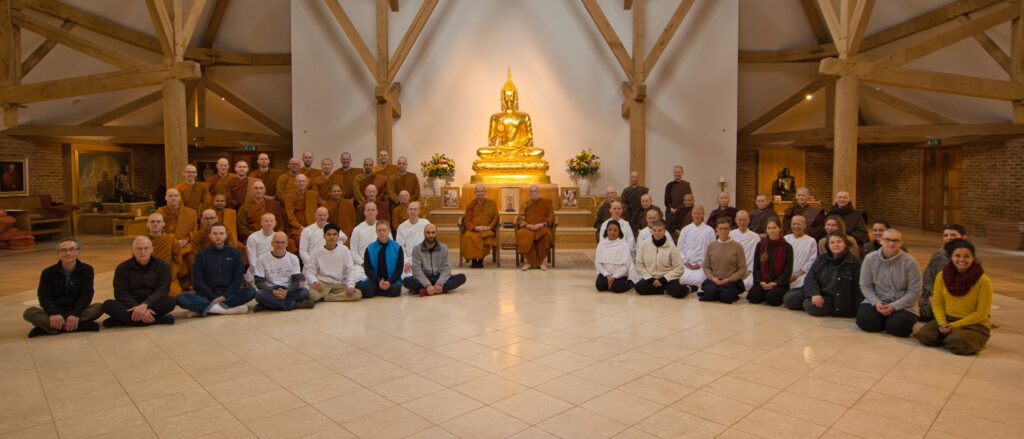 Upcoming events
Songkran (South Asian New Year)
We will celebrate the traditional South Asian New Year – "Songkran" in Thailand – on the 16th of April at 1:30pm in the Temple. This celebration usually consists of a formal pouring of water onto a Buddha-image, as well as onto the Abbot's hands. The monastic community will also chant some parittas, and Ajahn Amaro will likely offer some words on this occasion.
Vesak
The traditional Buddhist festival of Vesak (Visākha Puja) will likely take place at Amaravati on the 4th of June, but more information will be communicated here as we get nearer the event.
Progress of the building work
Work on the building site of the new sala complex has carried on steadily over the winter retreat, and the first bricks of the new workshop have been laid.
Back to our regular routine
The routine of the monastery reverts to its 'normal' mode, and you are now welcome to contact our guestnun or guestmonk if you wish to spend some time at Amaravati and stay overnight.
Luang Por Sumedho has agreed to resume his offer of weekly Dhamma talks and will do so until the end of May, at which point he will leave to travel for 6 weeks, mainly to visit Santacittarama Monastery in Italy and attend the temple opening ceremonies there on June 9 to 11, 2023.
The 2pm Saturday workshops, led by experienced lay practitioners during the winter, revert to being led by a senior monk or nun for the rest of the year.
As always, you are very welcome to visit during the day and make use of our Temple and library, and partake of the daily meal offering at 11:30am.
We wish you a joyful spring, and a peaceful visit at the monastery.
The resident community at Amaravati