The Kathina festival at Amaravati will be held this year on Sunday, 26th November 2023, and we warmly invite you to join us in person to celebrate this event in the presence of Phra Brom Vajirayan (Luang Por Sumedho). As we expect a large gathering of people in the Temple, the afternoon ceremony will be live streamed in other locations on site. A recording of it will be available afterwards on the Internet.
Just like last year, this will be a Royal Kathina, with the Royal Kathina Robe being graciously offered by His Majesty King Maha Vajiralongkorn Phra Vajiraklaochaoyuhua of Thailand. In addition, we are delighted to host Ajahn Kevali, Abbot of Wat Pah and the Cittaviveka community. We are also glad to welcome representatives of other embassies and communities.
This year's event is kindly sponsored by Mr Tony & Mrs Supin Dreyer and Triratna Group.
Kathina is a tradition that has been followed for over 2500 years. It takes place during the month following the end of the Vassa, the three months' Rains Retreat. At Kathina, lay followers make a special offering of a Kathina cloth and, in addition, other requisites to the Sangha.
Outline of the Day
Morning event
09:45 Paritta Chanting in the Temple
10:30 Pindapata – offering of almsfood to the Sangha. Cooked rice to offer will be provided.
Afternoon event
13:15 Start of the Kathina ceremony

Taking Refuge in the Triple Gem and the Five Precepts, by the lay community
Paritta chanting by the Sangha
The offering of the Royal Kathina robe, cloth and other requisites to the Sangha
Dhamma talk by senior monk
As the sala is undergoing a major redevelopment project, expected to last until 2025, many of the monastery's daily activities have been taking place in and around the Retreat Centre. Please see the new location of the kitchen on this updated map. The Back Gate is now permanently closed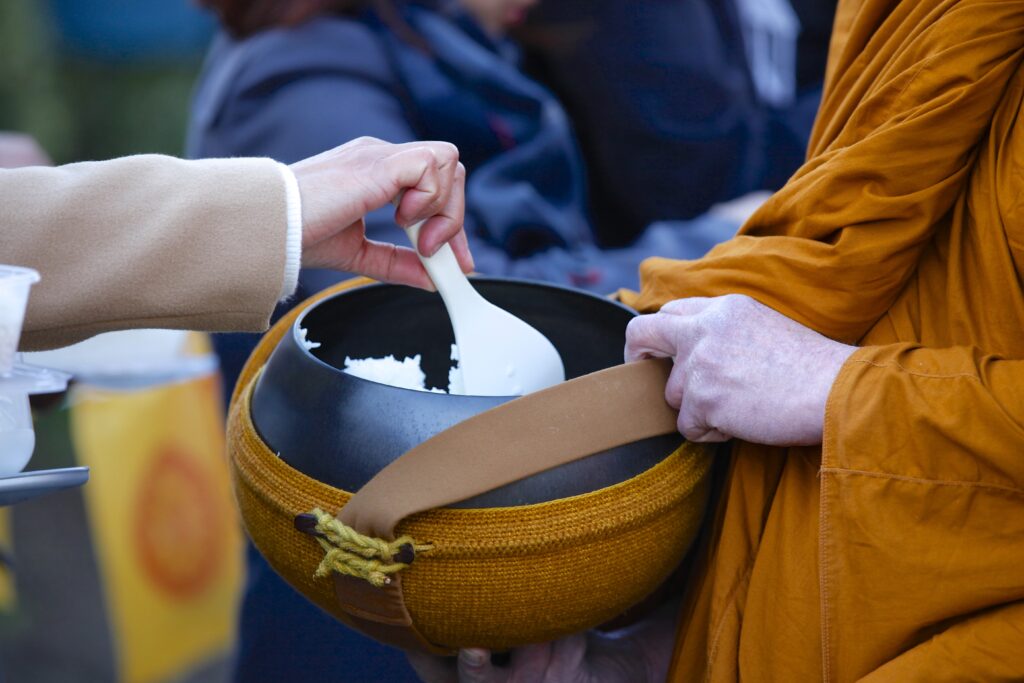 The Monastery is able to receive offerings on Kathina day. Towards the end of October 2023, our Kathina list will display items that the community would find helpful, and will allow you to 'book' your offering. Please go through this booking process so as to help us avoid having several people offering the same items. This will also help us to identify donors and formally acknowledge your offerings later on. As you go through the booking process, further guidance will be given on the various ways you can make offerings.
Offerings made in person can be brought to the Temple on Kathina day. If you wish to bring them before that, they can be left in or outside the Main Office on the table.
Donating
If you would like to make a donation by cheque, please make it payable to: "The English Sangha Trust Ltd" and send it to:
Kathina 2023
Amaravati Buddhist Monastery
Great Gaddesden
Hemel Hempstead
Herts, HP1 3BZ, UK
If you would like to make a donation by bank transfer, please send an email to [email protected]
If you are a UK taxpayer, you might also consider adding 25% to the value of your donation by completing an Amaravati Gift Aid form.
If you would like to consider making a regular donation, the Standing Order form can be downloaded at Amaravati Standing Order Form
For making donations online, using a credit/debit card or PayPal, please go to Amaravati.org/donations
You can now also make donations electronically at the Monastery using a debit card.
Information about income and spending in 2022-23, plans for 2023-24 and an updated Financial Statement from the EST, is available from the EST leaflet.
Donations this year will go towards the fund for Rebuilding the Sala, Workshop and service yard.
Volunteering
For information about volunteering to help with the many things that will need to be done before the day, and on the day itself, please contact Sharron Chan at [email protected]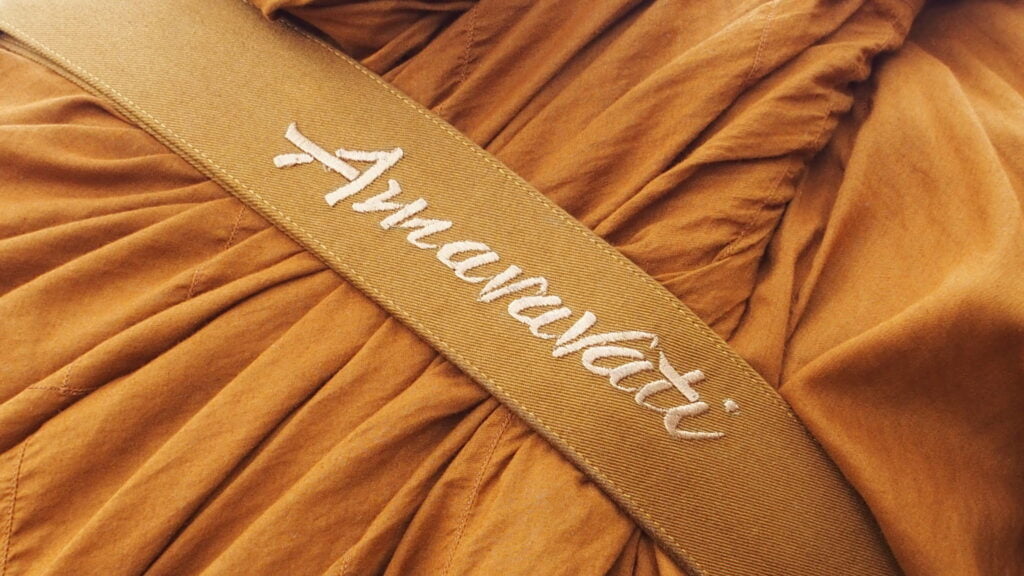 We hope you are able to join us for this Kathina and that it will be a joyful day for us all.
With Metta, in the Dhamma,
Mr Tony & Mrs Supin Dreyer and Triratna Group
Sponsors of the Royal Kathina celebration 2023
จดหมายเชิญร่วมงานพระกฐินพระราชทาน (ภาษาไทย)