Dana list
---
Many lay supporters ask what the monastery's specific needs are, so they can offer requisites to the Amaravati community. The list below indicates the items needed by the community and is updated regularly . Should you wish to check on what items are most needed at any particular time, you can also contact Amaravati by email, using the form on the contact page.
Notice

: the offerings drop-off area has moved
---
As of Saturday 9 April, we have reopened the monastery, and you are welcome to partake of the meal and bring your offerings to the sala, which is now open to the public during the day. Please note however that from the 3rd of May onwards, we have relocated the sala and kitchen to the retreat centre area – please see the "Drop-off Dana & Delivery" at the top-left in the map below.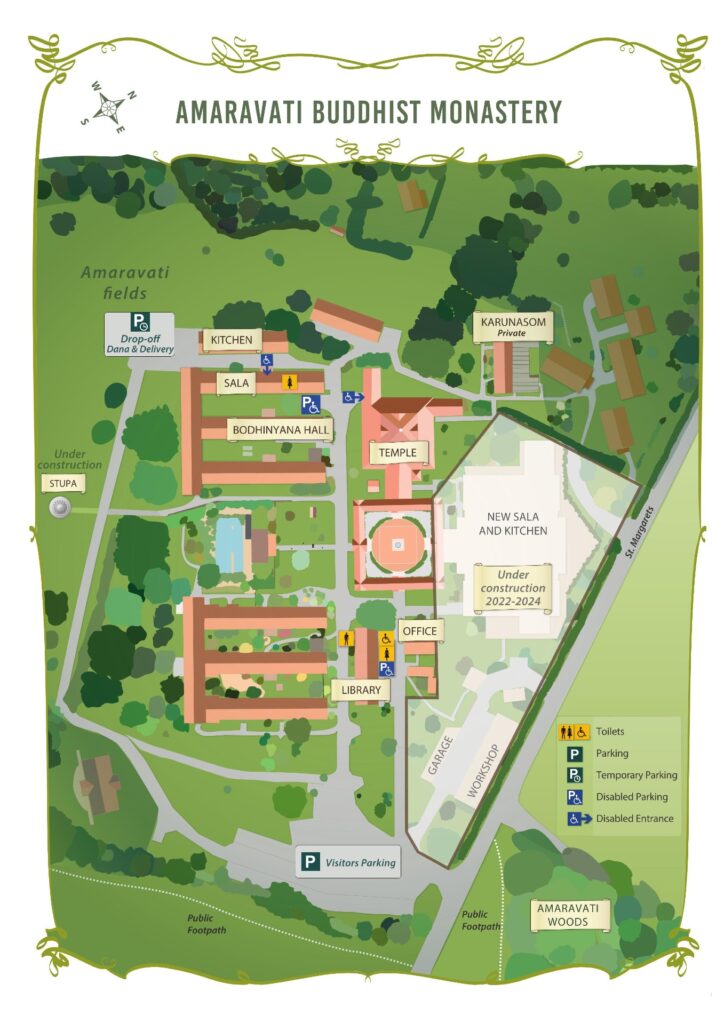 Under this new setting, you can bring offerings to the 'food drop-off' area highlighted in purple above; please note that the back gate and the offering table behind the previous kitchen are not available anymore.
Thank you for your kind support.
Amaravati Sangha
---
Dana List for 8 August 2022
Food
Fresh fruit
Fresh vegetables
Household
Office
---
We currently have plenty of
Food
Baked beans
Black and green tea
Bottled water
Frozen vegetables
Instant coffee
Margarine
Pasta
Potatoes
Rice
Smoked paprika
Turmeric
Household
Antiperspirant
Bleach
Cream cleaner
Dental floss
Hand soap
Toothpaste
Medicine
Aspirin
Paracetamol/Panadol
Please note that in an effort to support environmental concerns we would like to ask monastery supporters not to bring bottled water.
The sangha appreciates your generous intentions but for food safety reasons please do not donate raw meat or raw fish to the kitchen.
---
Amaravati Retreat Centre
Please see the support section of the Retreat Centre.
---